This is usually a POV shot where some things appear blurry or shaky.  It has been noted as significant by the creators. It appears to be one of the effects of Nine's Green Injection.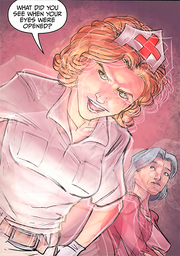 Instances of Shaky Vision
Edit
References
Edit
Ad blocker interference detected!
Wikia is a free-to-use site that makes money from advertising. We have a modified experience for viewers using ad blockers

Wikia is not accessible if you've made further modifications. Remove the custom ad blocker rule(s) and the page will load as expected.