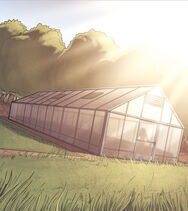 The Greenhouse is a location on the Morning Glory Academy campus.
When Chad and Steve kidnap Hunter, they bring him to the greenhouse at Jun Fukayama's orders. Chad and Steve are killed while Hunter is still blindfolded and when Hunter is untied by Hisao Fukayama, the greenhouse is shown to contain beds full of Morning Glories.[1]
While its specific purpose has not been revealed, it has been suggested that it is connected to the Headmaster
After Irina states her intention to kill the headmaster, she is shown shooting her rifle inside the greenhouse then being ejected out through the back wall. Upon her arrival, Georgina Daramount is aghast at the damage Irina did to "father".[2]
Georgina Daramount is shown leaving the greenhouse bleeding and lacerated presumably after being reprimanded by the headmaster for losing the children "I tried to explain...but he's so angry".[3]
References
Edit
Ad blocker interference detected!
Wikia is a free-to-use site that makes money from advertising. We have a modified experience for viewers using ad blockers

Wikia is not accessible if you've made further modifications. Remove the custom ad blocker rule(s) and the page will load as expected.