The question " What Did You See When Your Eyes Were Opened?" is seen as a test by the academy.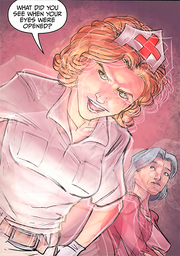 Instances of the question.

There are also direct references to the question:
If someone fails the test, they are deemed no longer useful and may be killed.[3][7]
The phrase itself may be a reference to Genesis 3: 5 "For God knows that when you eat from it your eyes will be opened, and you will be like God, knowing good and evil."
References
Edit
Ad blocker interference detected!
Wikia is a free-to-use site that makes money from advertising. We have a modified experience for viewers using ad blockers

Wikia is not accessible if you've made further modifications. Remove the custom ad blocker rule(s) and the page will load as expected.