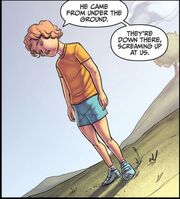 A group of people that the
academy
is keeping prisoner underground.
Lara
can somehow hear them telepathically and says they are "screaming up at [them]. They say they don't want to die"
Known members of this group are Ted and Daramount and Lara's Lara's Mother. It is also implied by Lara that Vanessa is also one of these people.[1]
References
Edit
Ad blocker interference detected!
Wikia is a free-to-use site that makes money from advertising. We have a modified experience for viewers using ad blockers

Wikia is not accessible if you've made further modifications. Remove the custom ad blocker rule(s) and the page will load as expected.