This phone was given to
Miss Richmond
by
Clarkson
[1]
.  It may be what's referred to when Miss Richmond asks Vanessa if she packed "it".  If so, then it can't be interferred with by the
academy
[2]
. It was later seen being carried by
Vanessa Richmond
[3]
.
It is a military prototype of a long distance two-way radio communicator that only work at the academy. It was made by Clarkson; it can only be seen and used by Ellen and Vanessa; if she tells anyone about it they will immediately forget about it. The radio seems indestructable: after breaking it at the camp, Ellen was able to receive a message from the older Vannessa that is locked in the cells of the academy[4].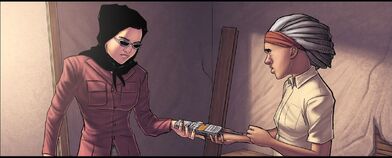 References
Edit
Ad blocker interference detected!
Wikia is a free-to-use site that makes money from advertising. We have a modified experience for viewers using ad blockers

Wikia is not accessible if you've made further modifications. Remove the custom ad blocker rule(s) and the page will load as expected.