"
Megan?!!!
Walid?!!!
Hisao!!!
"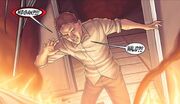 Walid is a student at Abraham's Camp and is present when Daramount burns down the camp and kidnaps the students. When Abraham gets back, he finds Walid, Megan, and Hisao are gone.[1] Miss Richmond helped Walid and four other students escape.[2] Hisao ended up in Tokyo and Megan was taken by Daramount and locked in the basement of Morning Glory Academy.[3]
After Abraham escapes from the Academy, Walid meets him in Marrakech and helps Abraham evade his pursuers. They then meet up with Caleb and Zoe.[2]
Information
Edit
Walid has appeared in 3 issues to date:
Morning Glories Wiki has 2 images featuring Walid
References
Edit
Ad blocker interference detected!
Wikia is a free-to-use site that makes money from advertising. We have a modified experience for viewers using ad blockers

Wikia is not accessible if you've made further modifications. Remove the custom ad blocker rule(s) and the page will load as expected.